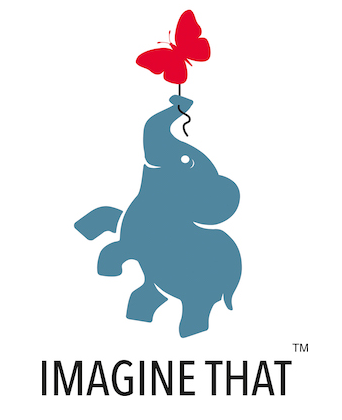 Inspiring children to read, learn play and create.
Terms
These terms and conditions help to keep www.imaginethat.com a safe place to trade and set out the full extent of any agreement reached between you and Imagine That Publishing in connection with this site. You should understand that by placing an order, you accept the following terms and conditions:
Restrictions
This web site is owned and operated by Imagine That Publishing Ltd ("Imagine That"). By accessing or using this site, you agree to the terms set forth in this Terms and Conditions agreement. Imagine That reserves the right, at its discretion, to change any of these terms in the future. Your continued use of this site constitutes your agreement to all of these Terms and Conditions as revised at any time.
Copyright and Trademarks
You may not copy, reproduce, upload, post, distribute, republish, retransmit or modify in any way any of the material on this site, including computer code and software. Provided that you retain any and all copyright, trademark and other proprietary notices, you may download publicity and catalogue material as outlined in the Bookseller section of this site. Requests to reproduce any further material from this site should be addressed to the Marketing Department at the address given below.
Imagine That, Top That, The Froobles, Princess Pirates, file-online.com, Play Pals and Teacher's Pets are Registered Trade Marks of Imagine That Group Ltd and are protected by international laws.
Price and Availability of Titles
Whilst every effort is made to ensure accuracy of prices and availability of the titles featured on this site, these cannot be guaranteed and price and availability information may change without notice.
Links to Third Party Web Sites
This site may include links to third party Internet web sites which are controlled and maintained by others. These links are included solely for the convenience of others and do not constitute any endorsement by Imagine That of the sites linked to or referred to, nor does Imagine That have any control over the content of any such sites. These Terms and Conditions apply solely to the Imagine That site and you should review the terms of any site that you access through a link from the Imagine That site.
Licence to Imagine That Group Ltd
By posting messages, sending e-mails, inputting data, answering questions, uploading data or files or otherwise communicating with Imagine That through its web site, you are granting Imagine That a perpetual, non-exclusive, royalty-free, unrestricted, worldwide licence to use, display, sublicense, adapt, transmit and copy any communication. This grant shall include the right to exploit any proprietary rights in such communication, including (but not limited to) rights under trademark, copyright, servicemark or patent laws in any relevant jurisdiction.
Exceptional Rules
This web site may contain bulletin boards, competitions or other features that may be governed by additional rules. Please read any exceptional rules attached to any feature before participating in a feature, as these rules form part of these Terms and Conditions to which you agree through continued use of this site.
Liability Disclaimer
This site is provided by Imagine That in good faith but Imagine That does not make any representations of warranties of any kind, express or implied, in relation to all or any part of the site or its content or any web sites to which it is linked. All warranties and representations are hereby excluded to the extent permitted by law.
The contents of the site do not constitute advice and should not be relied upon in making, or refraining from making, any decision. There is no guarantee that the site will be free of infection by viruses or anything else which may be harmful or destructive.
To the extent permitted by law, Imagine That hereby disclaims all liability, howsoever arising, in connection with any loss and/or damage, arising out of or in connection with any use of, or inability to use, all or any part of the content, the site and/or any web site to which the site is linked, or any action taken or refrained from being taken as a result of using any of these.
User Information
Imagine That collects information on which pages are accessed or visited by consumers, as well as information volunteered by the consumer, such as survey information and/or site registrations. Imagine That uses this information for internal review.
Contact Information
In case of enquiry, please contact:
Imagine That Group Ltd, Tide Mill Way, Woodbridge, Suffolk IP12 1AP
+44 (0)1394 386651
or e-mail: hello@imaginethat.com