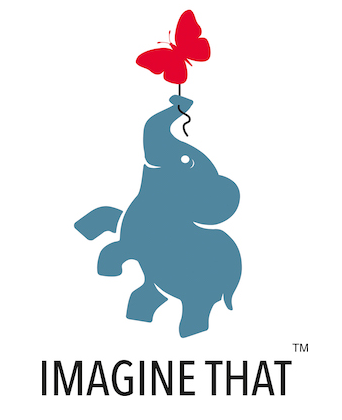 Inspiring children to read, learn play and create.
29th March 2018
Spot the elephant! Bologna Children's Book Fair, 2018
Our team have been in Italy this week at the Bologna Children's Book Fair, the leading international fair for children's books.
Our first stand as Imagine That has been a hub of activity as customers and visitors were introduced to our brand-new product ranges including smART Magic Colouring, Push & Play, Animal Friends, Touch, Feel, Explore, Sticker Play, and the launch of our brand new fiction imprint, Willow Tree.
Armed with a shiny new stand (complete with our new logo ceremoniously backlit) and sparkling new books, it has been a busy and inspiring few days, with the team reporting excellent feedback to Imagine That HQ.
Publishing Director Dan Graham, who made a return to Bologna this year in line with the company re-branding and multiple imprint launch, praised the hard work and dedication of the team, stating 'Bologna provides a great en masse acid test for new product ranges and business strategies and I am delighted that the company rebrand, Willow Tree imprint and product evolution has been so well received by our customers and industry peers.'
With two days of hard work behind them, Tuesday evening marked the official launch party for the Imagine That team, where bubbles and conversation flowed in equal measure and our team were able to celebrate the dawning of a new journey in children's books. When asked what her highlights of the trip were, Vice President of US Sales Lucy Scoot was clear with her picks, celebrating the 'fantastic stand feedback from customers new and old who were incredibly excited about the future of Imagine That within the children's publishing market.' As for the perks of being surrounded by possibly the best pizza and pasta in the world, when asked for a 'penne' for her thoughts, Lucy was quick to champion the 'unrivalled tortellini' as a final highlight of her time away.
 Ciao Bologna and thank you for a busy, bustling and brilliant book fair as Imagine That!