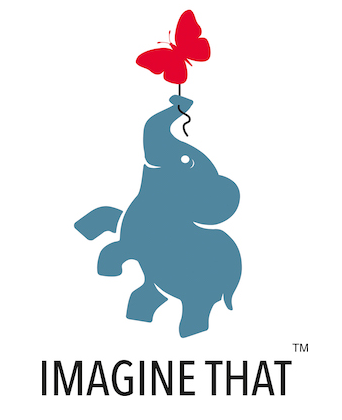 Inspiring children to read, learn play and create.
1st August 2018
August Books Out Now!
School may be out for summer, but reading is definitely in with our scorching selection of August releases.
From mischievous puppies to swashbuckling adventures with Jade, our latest Princess Pirate heroine, alongside animal-tastic summer activity book titles to keep young minds active, our August selection is looking summer-ready! Over in the USA, our best-selling Play and Learn series is making its American debut, with two kindergarten magnetic titles, perfect for interactive learning over the holidays.
UK Releases:
Sticker Play Animals / Dinosaurs
Written by Connie Isaacs, illustrated by Dan Crisp
It's time for an animal adventure and a prehistoric party with these Sticker Play activity books, bursting with amazing animal and dinosaur-themed puzzles, scenes, over 700 stickers and an animated badge!
Take a hair-raising journey through the wild, followed by fun down on the farm and finish off with an under-the-sea adventure in Sticker Play Animals, with cool activities and colourful sticker scenes at every step (or animal paw print!) of the way. In Sticker Play Dinosaurs, take a historical journey through different dinosaur periods, followed by a hair-raising spy on some deadly hunters and finish off with a giant dinosaur munch, with heaps of fun at every page turn (or ground-shaking stride!).
From code breaking to colouring in and spot-the-difference pictures to dot-to-dot pages, boys and girls age 5 and up will love working their way through the animal and dinosaur-themed activities. With over 700 stickers and a cool animal lenticular badge to wear too, there really is no limit to the amount of animal fun that can be had!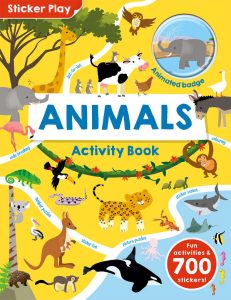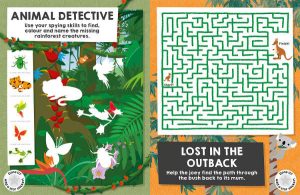 Click here to order Sticker Play Animals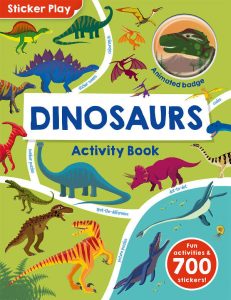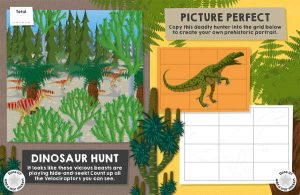 Click here to order Sticker Play Dinosaurs
Cuddle the Magic Kitten – Book 3: Princess Party Sleepover
Written by Hayley Daze
When Cuddle the kitten comes to play, magic is never far away! 
Whenever Cuddle the cutest kitten appears, a sparkle of her kitten magic takes best friends Olivia and Grace on amazing adventures. Perfect for emerging readers, satisfying progress is assured through the simple but immersive magical kitten adventures. Children will smile from ear-to-ear as they read!
In Princess Party Sleepover, Cuddle takes Olivia and Grace on an amazing royal adventure to a magical masked ball. With kitten magic, will the best friends be able to persuade a young princess to go to the ball and make her parents proud?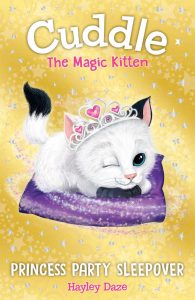 Click here to buy Book 3: Princess Party Sleepover
Muddle the Magic Puppy – Book 3: Ballet Show Mischief
Written by Hayley Daze
Whenever it rains, a magical puppy called Muddle appears!
Muddle the puppy is magic, but he's also a little bit naughty! Emerging readers will grow in confidence as Muddle takes cousins Ruby and Harry on adventures filled with magic and excitement.
In Ballet Show Mischief, Muddle jumps into a magical puddle and takes Ruby and Harry on a brilliant ballet adventure! They need teamwork and a lot of puppy magic to help a young girl to get over her nerves and to perform on stage. Luckily, Muddle, Harry and Ruby make a great team!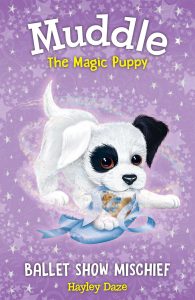 Click here to buy Book 3: Ballet Show Mischief
Princess Pirates Book 2: Jade – The Clockwork City
Written by Rose Lacey
Action-packed, swashbuckling adventures set in a magical island world … book 2 out in the UK and USA this month!
A battle for the magical world of Lemuria is raging and an evil sorceress called Obsidian is on the brink of defeating the five royal families. Get ready for buccaneering adventures with the Princess Pirates as they use their magical powers to help the people and animals of Lemuria, whilst embracing the values of teamwork, friendship, girl power, courage, and loyalty.
Join brand new heroine Jade in book 2 as the Princess Pirates start to master their super hero powers and use them to rescue the people and animals who live in the clockwork city. Their friendship will be put to the test as they battle against the wicked Queen, Obsidian.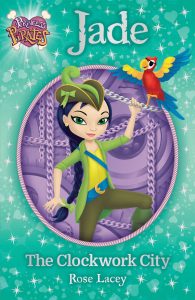 Click here to buy Book 3: The Clockwork City
USA Releases:
Play & Learn: Beep-beep! Magnetic First Words / Baa-baa! Magnetic Counting
by Nat Lambert
Get ready for noisy, colourful magnet fun! Discover tasty food, colorful clothes, busy tractors, cute ducklings and more, then complete the scenes with the number, word and picture magnets and learn first words and counting.
Play & Learn titles include a clever compartment so the magnets can be tidily stored away after use. Interactive, early-learning titles, bursting with colourful photographic images and easy-to-follow text throughout.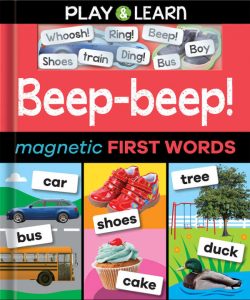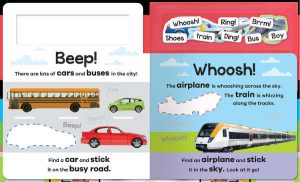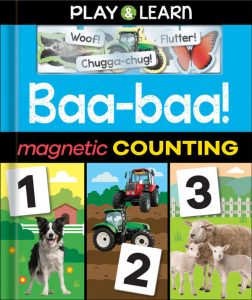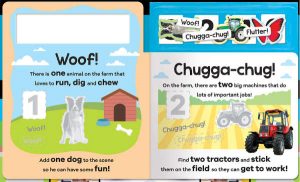 Happy publication month and happy reading! We'd love to hear your thoughts on our brand-new books. We also love to see pictures of you and your little ones reading – tag us on Instagram/Twitter/Facebook (@ImagineThatBook / @WillowTreeBook).