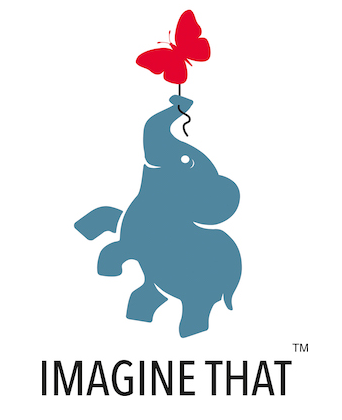 Inspiring children to read, learn play and create.
25th April 2019
April/May Releases
From pop-out play books to out-of-this world science kits, Spring has most definitely sprung with our latest book releases.
The weather feels warmer, the evenings are lighter, and just when you thought you'd had your sunshine quota, here are our newly and soon-to-be-released titles for April and May! With new and exciting formats including our tactile Touch, Feel, Explore books Red & Blue and One & Two, plus endless search and find fun in our innovative new Flip, Flap and Find books, there's something for unicorn lovers, dinosaur fans, maths wizards, space enthusiasts and more! 
April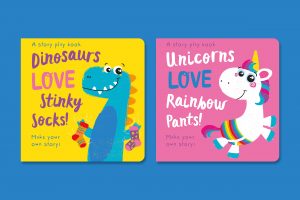 Dinosaurs LOVE Stinky Socks! / Unicorns LOVE Rainbow Pants! (UK/US)
Written by Jenny Copper, illustrated by Carrie Hennon
What do dinosaurs love? Do they eat stinky socks and sleep in a space rocket? Do dinosaurs have bubble baths in the swamp? What about unicorns? Do they eat wiggly worms and wear a pirate hat on their head? Do they race over a rainbow, do unicorns dance on the moon?
Match, muddle, and make a story with these super-silly and hilariously fun interactive board books where the reader chooses what happens next! 
Choose from fifteen push-out play pieces to create a funny story.
Bold, colourful illustrations to captivate children's attention.
Encourage imaginative play and story building over and over again!
For children age 3+.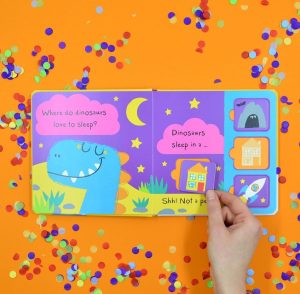 Available to buy from: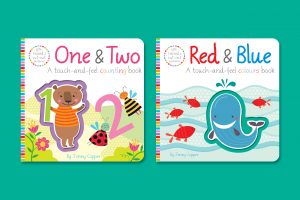 One & Two / Red & Blue (UK/US)
Written by Jenny Copper, illustrated by Alena Razumova
Discover a tactile world of early learning in these super-cute first concept books. With gorgeous, playful illustrations by illustrator Alena Razumova, these books are a treat for the eyes and the hands! 
Touch, feel and explore the raised and indented pictures.
Perfect titles for little learners discovering their first numbers and colours.
Support the development of fine-motor skills.
For children age 2+.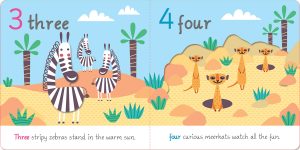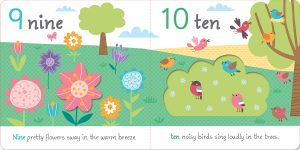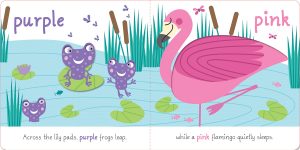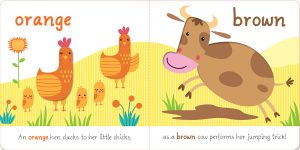 Available to buy from:
Princess Pirates Book 3: Opal The Monstrous Forest (UK/US)
Written by Rose Lacey
Action-packed, swashbuckling adventures set in a magical island world!
Join Opal in book 3 as the Princess Pirates battle to release the Purple Isle from a terrible curse. Opal can speak with the animals, but she will need courage to keep her Princess Pirate friends safe in their most dangerous adventure so far! Will they save the day and escape from the monstrous forest?
Self-confidence boosting and life-affirming themes!

Features striking line art throughout.

Evergreen princess and pirates themes combined with a core girl power message.
Available to buy from:
May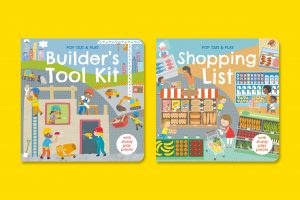 Builder's Tool Kit / Shopping List (UK/US)
Written by Robyn Gale, illustrated by Barry Green
Opportunity for play? Tick! Educational? Tick! Build confidence and creativity with our new pop out and play books, perfect for supporting role play in young children.
With easily recognisable objects throughout, children will have lots of fun getting into character and acting out real life roles. Once play is over, the pieces cleverly double up as a jigsaw puzzle, as children call upon skills of logic to decide where the play pieces belong. Two in one storytime fun – huzzah!
Perfect for developing communication and problem solving.
Examples of onomatopoeia throughout heighten the role-play experience.
For children age 3+.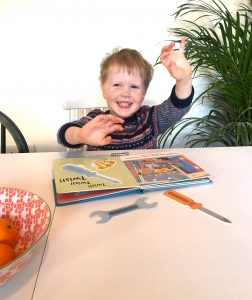 Available to buy from: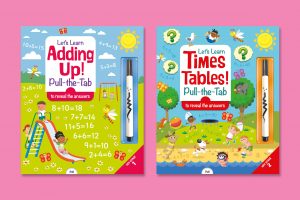 Adding Up! / Times Tables! (UK/US)
Written by Nat Lambert, illustrated by Barry Green
With addition and times tables being a frequent fixture within the primary maths curriculum, these wipe-clean, pull-the-tab board books make a perfect study aid to support school learning at home.
Whether worked through independently or with adult support, young learners can write in their answers using the pen included and then check using the pull-the tabs, giving them the confidence they need to unlock further maths learning. They'll be saying 'can we do more sums?' in no time at all!
Includes over 100 maths questions in each book.
Use the wipe-clean pen to write the answer to each sum, then pull-the-tabs to check the answers!
Re-usable – simply wipe clean and use again and again.
For children in Key Stages 1 & 2 
Available to buy from: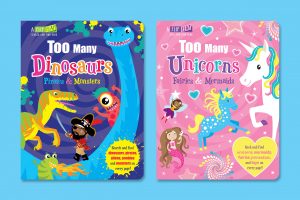 Too Many Dinosaurs, Pirates & Monsters / Too Many Unicorns, Fairies & Mermaids (UK/US)
Written by Jenny Copper, illustrated by Carrie Hennon
It's time for search and find fun like you've never experienced before!
There are dinosaurs and unicorns hiding on every page of each Flip, Flap and Find book. Just flip the flaps to find them stomping in a forest, sailing a pirate ship, swimming with mermaids, prancing with princesses, running with zombies and even taking over a monster city.
Features fun rhyming words throughout, helping young children develop language and early reading skills.
The clever 'flip, flap and find' panel allows children to choose what to search and find on each page.
There are 200 characters and pictures to find in each book!
Available to buy from: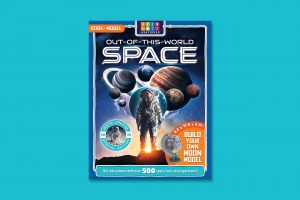 Out-of-this-World Space (US only)
Written by Martin Mobberley, illustrated by Stephen Sweet
Become a space scientist and explore the out-of-this-world science behind our Solar System and beyond.
How far away are the stars? Where did the Sun come from? Why does the Moon appear to change shape? Get into science and discover the answers to these questions and many more with the lightspeed facts inside.
Plus if that wasn't enough to make you starry-eyed, carry out awesome space science experiments and discover everything you need to make your own amazing model of the Moon!
Title features book and moon-modelling kit. 
Includes over 500 lightspeed space facts!
For children age 7+.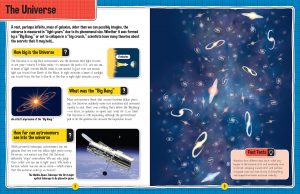 Happy Spring everyone and happy reading! We'd love to hear your thoughts on our brand-new books. We also love to see pictures of you and your little ones reading – tag us on Instagram/Twitter/Facebook  for the chance to be featured!