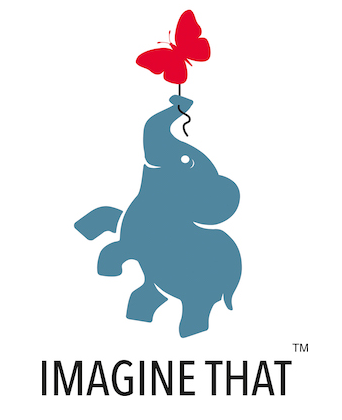 Inspiring children to read, learn play and create.
10th October 2019
The Flying Elephants support Suffolk Libraries Book Journey Challenge
Our resident running team, The Flying Elephants, took to the Suffolk roads this week as they supported the first ever celebration of the county's library service.
Suffolk Libraries Day, due to take place on Saturday 12 October,  is a day to mark the important role that the county's libraries play in their communities and to generate support for Suffolk Libraries.
Imagine That were delighted to support the event by sponsoring a leg of a special Suffolk-wide book journey in the week leading up to Suffolk Libraries Day. So far, the book journey has seen businesses from across the county helping to get a copy of the Suffolk based novel 'The Huntingfield Paintress' by Pamela Holmes from Bungay to Haverhill, visiting all the county's libraries in between and covering a total of nearly 324 miles.
With the combined efforts of members of The Flying Elephants, the team set foot on their 4.8 mile leg of the journey on Tuesday.
The club was born last year, when a spontaneous group run after work soon became a twice-weekly occurrence. As the team grew, so did the miles, and before long people that had previously never ran before were entering half marathons and other running events. The team have continued to reap the rewards that exercise can bring, with members championing and supporting each other along the way.
David Henderson, MD of Imagine That, commented:
"It has been fantastic to see the positive impact that The Flying Elephants running club has had on the team. As a company, we are committed to prioritising the wellbeing of staff and empowering individuals to accomplish their own personal goals. To be able to use this proactive initiative to support Suffolk Libraries is a particularly special event for us, especially in line with our mission to inspire the next generation of readers."
And fly they did! The team managed to cover 4.8 miles in just over 40 minutes, travelling from Wickham Market Library to Woodbridge Library, where refreshments and the book's next leg of the journey awaited. Go elephants!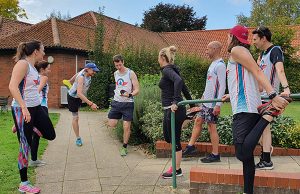 Time to stretch! Multi-tasking UK Sales Manager Lloyd manages to 'squeeze' in a quick read of the book before the team sets off  …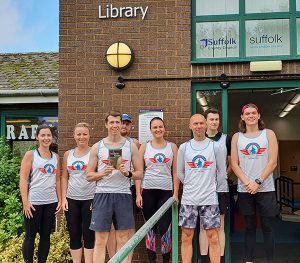 Fresh faced and ready for action – the team pose for their start line shot at Wickham Market Library.
A flying finish! Our runners arrive back in their home town and finish their journey at Woodbridge Library (where biscuits await).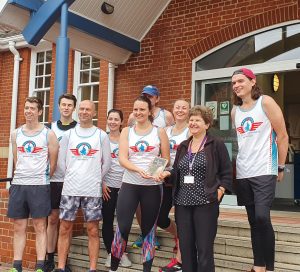 That's a wrap! Woodbridge Library manager Helen Scrivener greets our runners as they hand over the book to embark on its next leg!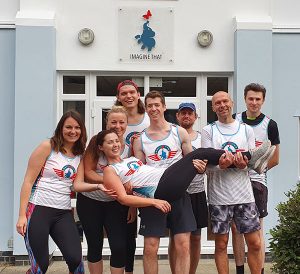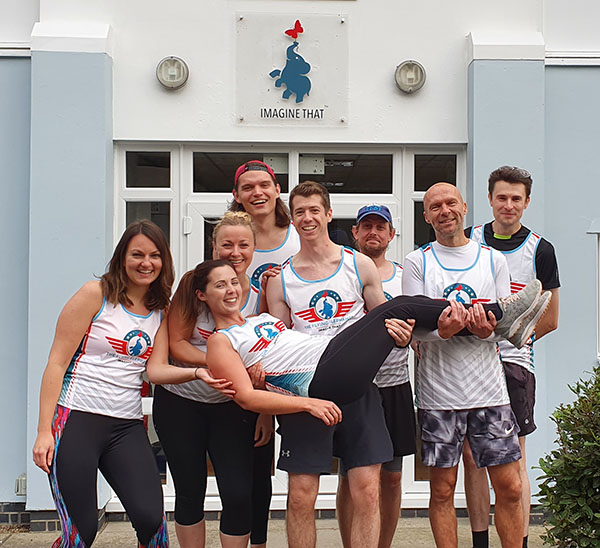 That's teamwork! An elephant-astic performance from our runners!
Imagine That will be continuing their support of Suffolk Libraries through the launch of a children's winter storybook competition later this month. Ten winners will be selected and invited along to a storybook writing workshop at Ipswich Library in December, where children aged 7 to 11 will have the opportunity to write and design their own picture books with the help of publishing professionals, as well as taking home a special bundle of Imagine That books. Online entry will be available from the 16th October at www.suffolklibraries.co.uk/winterstory. More to follow!