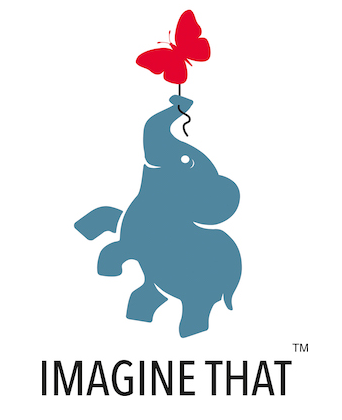 Inspiring children to read, learn play and create.
26th September 2018
Autumn Releases
As summer draws to a close, school routines are back in full swing and we begin to dust off our scarves and jackets once again, it's the perfect time to cosy up with a great book (or five). Enter our Autumn releases!
September signalled the release of no less than fourteen shiny new titles across the UK and US (our biggest month to date this year!), and October's upcoming offering shows no signs of slowing down the Autumnal book excitement.
With new and imaginative formats that will see children engaging and interacting like never before, plus shiny new Willow Tree picture book and chapter fiction titles to add to existing series favourites, we're more than happy to say goodbye sunny summer and hello amazing autumn!
UK September Releases: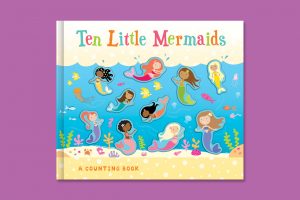 Counting to Ten Books: Ten Little Mermaids 
Written by Susie Linn, illustrated by Lauren Ellis
Embrace your inner mermaid and dive in to this rhyming counting story with cute characters that disappear one-by-one! 
Each time a page is turned a colourful mermaid disappears, encouraging children to learn to count as they read the simple story and find out where each mermaid has gone to! Perfect for parents to share with children age 3 and up alongside our existing Counting to Ten fantasy title, Ten Little Unicorns.
Our favourite bit? The fun, rhyming text throughout, ideal for encouraging language development and word recognition amongst little learners.
Click here to buy Ten Little Mermaids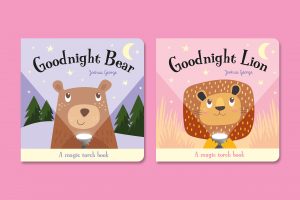 Torchlight Books: Goodnight Bear / Goodnight Lion (also out now in the US!)
Written by Joshua George, illustrated by Zhanna Ovocheva
Bear is ready for bed, but first she wants to say good night to all her animal friends.
Bedtimes just got even cosier with these adorable new torchlight books! 
Young children will love to help Bear find the animal friends in this interactive board book. Insert the included 'magic torch' between the pages to find Bear's friends in each night-time scene and watch children glow with delight.
Our favourite bit? Aside from the super-cool (and not to mention super-clever!) torchlight, we love the cutesy pastel colour palette, perfect for snuggly and soothing story times.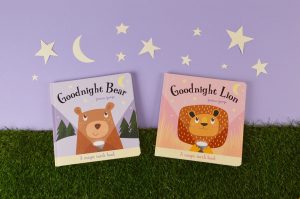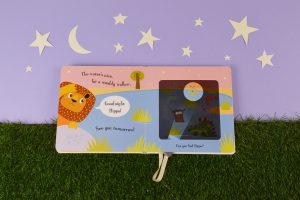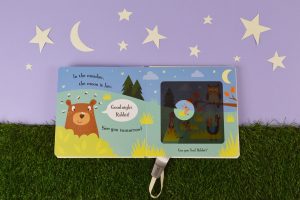 Click here to buy Goodnight Bear
Click here to buy Goodnight Lion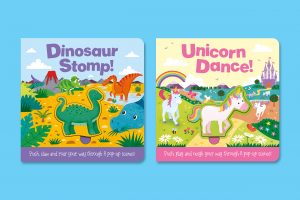 Push and Play: Dinosaur Stomp! / Unicorn Dance! 
Written by Jenny Copper, illustrated by Lindsey Sagar
Say hello to interactive play with our brand new innovative board book series, Push and Play.
With colourful pop-up scenes on every spread, this series allows children to interact with the play piece characters and to use their imagination to take a journey through the simple, immersive story on each page.
Push out the play piece on the front cover and guide it around, under, over and through eight story play scenes. The die-cut pages provide a magical gateway from one dino and unicorn scene to the next!
Our favourite bit? The nifty push out character on the front cover (which very cleverly is double sided so children can happily stomp and dance their way through the book from all angles!).
Click here to buy Dinosaur Stomp
Click here to buy Unicorn Dance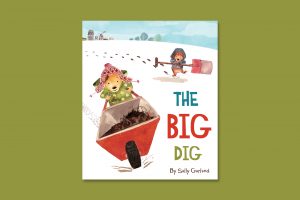 Willow Tree Books: The Big Dig 
By Sally Garland
Willow Tree's fourth UK picture book release is here … cue heart melting 'awwws' all round!
Sharing leads to an amazing discovery in this sweet friendship story with a (spoiler alert!) surprise dinosaur ending.
When Tig uses a stick to draw in the snow, she notices something strange and interesting sticking out of the ground. Best friends Tig and Tog must learn to share and work together to dig the thing out – and the stick just isn't enough for the job!
A tale of friendship, teamwork and learning to share by award-winning author and illustrator Sally Garland.
Our favourite bit? The positive message about working together in the face of adversity, providing a great discussion point for young children and adults to explore together.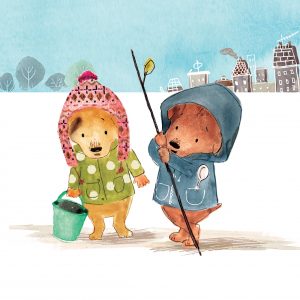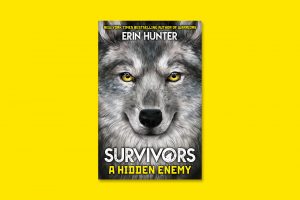 Willow Tree Books: Survivors Book 2 – A Hidden Enemy 
By Erin Hunter
Hunt. Adapt. Survive.
From the author of the US smash hit series Warriors, confident readers will be enthralled to follow the dog packs as they learn to survive and thrive in a world without human masters.
An action-packed series with authentic canine voices that will grip, excite and entertain in equal measure.
'A Hidden Enemy' follows Lucky as his loyalties are put to the test. Will he stay loyal to his pack, or will he join a fierce pack of Wild Dogs who are ruled by a menacing half wolf called Alpha?
Our favourite bit? How the book explores themes of loyalty – perfect for tween readers.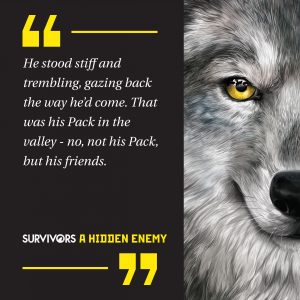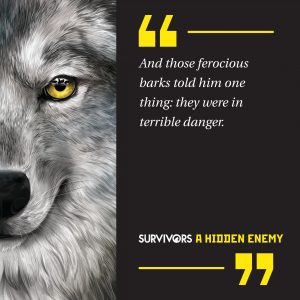 Click here to buy Survivors: A Hidden Enemy
US September Releases: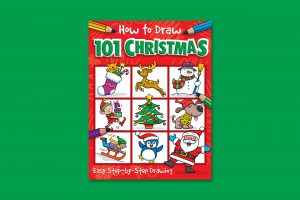 101 How to Draw Christmas
Written by Ali Locke, illustrated by Barry Green
Candy canes? Check! Santa coming down the chimney? Check! Learn how to draw 101 different Christmas pictures for the holiday season.
It's easy! Follow the simple step-by-step drawings and you will soon be amazing all your friends with your new-found artists' skills!
Includes step-by-step line drawings to help budding artists draw 101 different favourite festive characters in various shapes, sizes and poses.
Our favourite bit? The way each image is broken down into six simple steps, meaning children will quickly gain in confidence when they see their finished results, and will soon be adapting their designs and drawing freehand pictures of their own!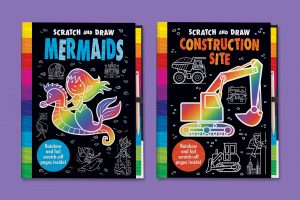 Scratch and Draw Mermaids / Construction Site
Written by Arthur Over, illustrated by Barry Green
It's time to take colouring and drawing to another level!
Scratch and draw amazing rainbow and foil effects on the special cards in these creative drawing activity books. 
Splash, bang, wallop! Dive into our brand new US titles out this month … both our new Mermaids and Construction Site editions include step-by-step instructions to learn how to draw all kinds of mystical mermaid characters and awesome construction machinery. There's even fantastic pictures of world-famous buildings to complete, with the dazzling rainbow and foil effects revealed by using the nifty writing stylus included. A best-selling format, perfect for children age 5 and up.
Our favourite bit? The addition of 'how to draw' pages, making these books tick all the activity book boxes!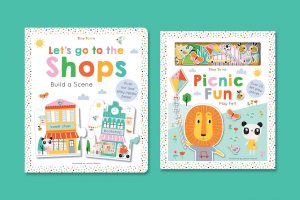 Tiny Town
Written by Joshua George, illustrated by Lemon Ribbon
Build-a-Scene: Let's go to the Shops
Soft Felt Play Books: Picnic Fun
Take a trip to our favourite miniature metropolis with this giant-jigsaw storybook and fun felt play book, the latest US releases in our popular (and award-nominated!) Tiny Town range.
In Let's go to the Shops, each spread includes a big, easy-to-use jigsaw piece that pushes out to make a giant shopping scene jigsaw, perfect for little hands!
In Picnic Fun, complete the scenes with the felt play pieces for colourful interactive fun. Children will love to complete every scene as they match the play pieces to the simple story!
Our favourite bit? The rhyming text in Let's go the Shops, which perfectly appeals to new and emerging readers.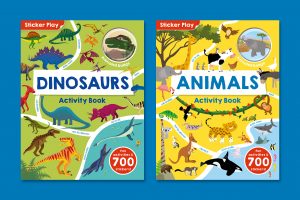 Sticker Play: Dinosaurs/Animals
Written by Connie Isaacs, illustrated by Dan Crisp
It's time for an animal adventure and a prehistoric party with these Sticker Play activity books, bursting with amazing animal and dinosaur-themed puzzles, scenes, over 700 stickers and an animated badge!
Take a hair-raising journey through the wild, followed by fun down on the farm and finish off with an under-the-sea adventure in Sticker Play Animals, with cool activities and colourful sticker scenes at every step (or animal paw print!) of the way. In Sticker Play Dinosaurs, take a historical journey through different dinosaur periods, followed by a hair-raising spy on some deadly hunters and finish off with a giant dinosaur munch, with heaps of fun at every page turn (or ground-shaking stride!).
From code breaking to colouring in and spot-the-difference pictures to dot-to-dot pages, boys and girls age 5 and up will love working their way through the animal and dinosaur-themed activities. With over 700 stickers and a cool animal lenticular badge to wear too, there really is no limit to the amount of animal fun that can be had!
Our favourite bit? The AWESOME lenticular badge, which acts as the best kind of reward for completing all the roar-some activities included inside!
UK October Releases: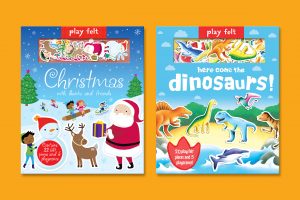 Soft Felt Play Books: Christmas / Dinosaurs
Written by Kate Thomson, illustrated by Lauren Ellis
It's a ho, ho, whole lot of roar-some fun in these brand new play felt book titles, perfect for the holiday season.
Join Santa and friends for festive adventure followed by a Jurassic journey (and Triassic and Cretaceous too!), with over 20 felt pieces and 5 colourful playscenes to explore.
Our favourite bit? Play felt books offer mess-free, educational fun – perfect for young children as part of their interactive play time.
US October Releases: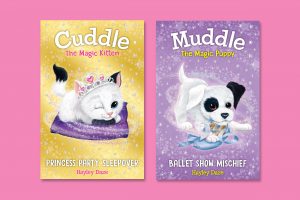 Cuddle the Magic Kitten – Book 3: Princess Party Sleepover
By Hayley Daze
When Cuddle the kitten comes to play, magic is never far away! 
Whenever Cuddle the cutest kitten appears, a sparkle of her kitten magic takes best friends Olivia and Grace on amazing adventures. Perfect for emerging readers, satisfying progress is assured through the simple but immersive magical kitten adventures. Children will smile from ear-to-ear as they read!
In Princess Party Sleepover, Cuddle takes Olivia and Grace on an amazing royal adventure to a magical masked ball. With kitten magic, will the best friends be able to persuade a young princess to go to the ball and make her parents proud?
Our favourite bit? How the story encourages kindness and putting others first.
Muddle the Magic Puppy – Book 3: Ballet Show Mischief
By Hayley Daze
Whenever it rains, a magical puppy called Muddle appears!
Muddle the puppy is magic, but he's also a little bit naughty! Emerging readers will grow in confidence as Muddle takes cousins Ruby and Harry on adventures filled with magic and excitement.
In Ballet Show Mischief, Muddle jumps into a magical puddle and takes Ruby and Harry on a brilliant ballet adventure! They need teamwork and a lot of puppy magic to help a young girl to get over her nerves and to perform on stage. Luckily, Muddle, Harry and Ruby make a great team!
Our favourite bit? The fact that no problem is ever too big for Muddle and friends to overcome – an important message for every youngster!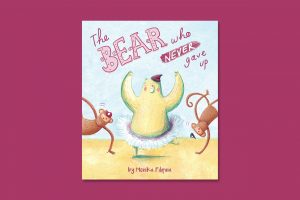 The Bear Who Never Gave Up
by Monika Filipina
"… a motivational tale about following your heart, wherever it may lead you." – Foreword Reviews
Dance along with Bear in this uplifting story about perseverance. One day Bear spots a poster for an ice-skating competition and despite past failures, he enters and wins! The Bear Who Never Gave Up is an uplifting story that will encourage children to persevere in order to reach their potential and fulfil their dreams.
Our favourite bit? Award-winning illustrator Monika Filipina's quirky illustration style brings this story to life. We love the attention to detail in the pictures and the heartwarming nuances throughout.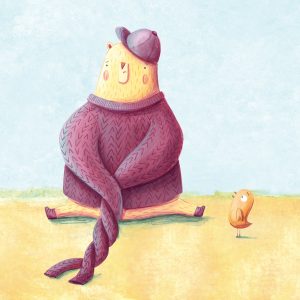 Happy autumn everyone and happy reading! We'd love to hear your thoughts on our brand-new books. We also love to see pictures of you and your little ones reading – tag us on Instagram/Twitter/Facebook (@ImagineThatBook / @WillowTreeBook).