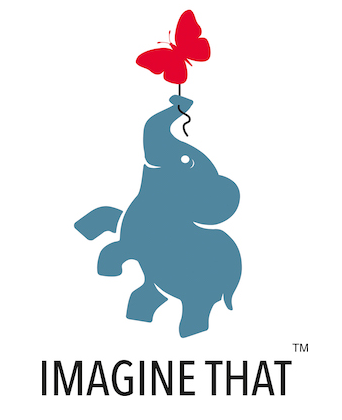 Inspiring children to read, learn play and create.
18th May 2018
A Right Royal Knees Up!
Break out the bunting … it's time for a royal paaaaaaaarrrrty!
There's nothing that says quintessentially British quite like a royal wedding. With Prince Harry and Meghan Markle's nuptials fast approaching, if you're planning a celebration fit for a queen (well, technically princess), then fear not, our royally righteous recipes will have your guests bowing before your feet! Don't forget the party hats, banners, bunting and streamers too!
All recipes are designed for children to follow and taken from 'The Great British Street Party Cook Book' by Nancy Lambert (2016).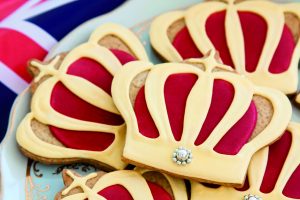 Crown Cookies
Buttery and delicious? Yes m'am!
Ingredients
100 g (4 oz) butter, softened
100 g (4 oz) caster sugar
1 egg
1 teaspoon vanilla extract
275 g (10 oz) plain flour
For the topping:
red ready-to-roll icing
yellow ready-to-roll icing
small and large edible silver balls
Preheat the oven to 190°C / 375°F / gas mark 5. Line the baking tray with baking paper.
Cream the butter and sugar together until the mixture is light and fluffy. Add the egg and vanilla extract, a little at a time, and mix well.
Sift the flour into the creamed mixture and, using your hands, create a smooth, firm dough. Refrigerate the mixture for 15 minutes.
Roll the dough out on a floured surface until it is 1/2 cm (1/4 in.) thick. Use a crown-shaped cookie cutter, or ask an adult to use a sharp knife, to cut out shapes from the dough. Transfer to the baking tray.
Bake the cookies in the oven for 8-10 minutes, or until golden brown, then transfer to a wire rack to cool.
Thinly roll out the red ready-to-roll icing. Carefully cut out a shape to fit the inside of the crown and place one on each cookie.
Next, roll out the yellow ready-to-roll icing. Use the crown-shaped cookie cutter to cut out icing crowns. Ask an adult to cut spaces in the icing for the red to show through, and carefully place on the cookies. Gently press to hold.
Finally, use small and large edible silver balls to decorate.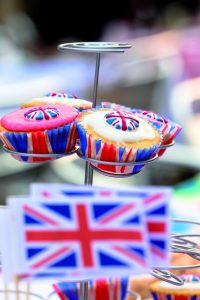 Union Jack Cupcakes
Add stars and stripes alongside the Union Jack flags to make these a perfect cupcake union!
Ingredients
125 g (4 1/2 oz) self-raising flour
125 g (4 1/ oz) butter, softened
125 g (4 1/2 oz) caster sugar
2 large eggs
2-3 tablespoons milk
For the topping:
100 g (4 oz) icing sugar
1-2 tablespoons hot water
food colouring (optional)
edible Union Jack / American flag sugar decorations
Preheat the oven to 180°C / 350°F / gas mark 4. Put the cupcake cases in the cupcake tray.
Sift the flour into a bowl, followed by the butter. Use the tips of your fingers to rub the butter and flour together until the mixture becomes crumbly. Alternatively, ask an adult to use an electric whisk.
Add the sugar and mix it in, then stir in the eggs. Finally, add the milk to make the mixture creamy.
Put spoonfuls of the mixture into the cupcake cases. Bake the cupcakes for 10-15 minutes, until they are cooked through and golden brown, then leave them to cool on a wire rack.
To make the topping, sift the icing sugar into a bowl and add 1-2 tablespoons of hot water. Mix until you have a smooth, thick paste.
If desired, separate the icing into batches and add a few drops of food colouring. Spread the icing onto each cupcake and leave to set.
Once set, top each cupcake with a Union Jack / American flag sugar decoration and then display.
Hearty Hotdogs
Move over finger sandwiches, we're all about the American vibes in honour of Prince Harry's new bride. Serve up hearty hotdogs to have everyone saying 'I do!'
All you need are good quality sausages, bread rolls of your choice and maybe a bit of salad if you're feeling virtuous.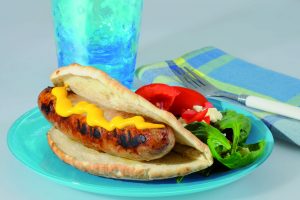 Top tip!
Give your guests the option of customising their hotdogs by putting out different bowls of toppings/condiments. We love caramelised onions, avocado with jalapeños, salsa and sour cream, bacon and cheese, pulled pork and BBQ sauce, and who can resist the classic ketchup and mustard combo?! The choice is yours!
… And finally, in honour of the charming prince himself, a fun addition to the royal banquet …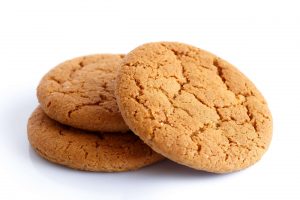 Royal Ginger Biscuits
Deliciously crunchy with a royal twist. You can serve these up in a harry!
Ingredients
100 g (4 oz) margarine 
2 tablespoons of golden syrup
225 g (8 oz) demerara sugar
300 g (10 oz) self-raising flour
1 teaspoon bicarbonate of soda
3 teaspoons ground ginger
1 egg, beaten
Preheat the oven to 160°C / 325°F / gas mark 3.
Use a piece of paper towel to lightly grease the baking trays with a little margarine.
Put the margarine, golden syrup and Demerara sugar into a pan over a medium heat. Stir with a wooden spoon until the margarine has melted. Remove the pan from the heat.
Sift the flour, bicarbonate of soda and ground ginger into a bowl.
Ask an adult to pour the melted margarine mixture into the bowl, and mix it together well. Stir the beaten egg into the rest of the mixture.
Use your hands to make balls of dough about 2.5 cm (1 in.) across. Put them onto the baking trays, leaving plenty of space in between.
Bake the biscuits in the oven for 10-12 minutes. Ask an adult to give the trays a little bang on the work top to make the biscuits go crinkly. Leave the biscuits on the trays for 2-3 minutes, and then transfer them to a wire rack to cool.
Here's to the happy couple! Send pictures of your royal wedding celebrations to sarah@imaginethat.com.